Hemp Face Coverings-With Filters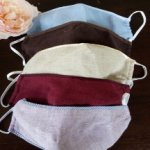 Please see our new range of unisex hemp face coverings with filter pocket sewn in for added protection. Available in a great choice of our beautiful Purely colours and Purely Natural (undyed), with 3 filters included in price.
Bulk buying / Wholesale available. Please do pass these details to a company who may be looking for natural and sustainable alternatives or email nerissa@drapersorganic.co.uk for details and prices, if this is of interest to you.