Hemp Shower Curtains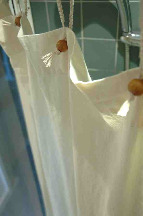 Hemp Shower Curtains make an elegant, healthy and sustainable alternative to Plastic and PVC curtains in the home. They are available in three widths, and a variety of lengths and colours to suit most tastes.
They also make stunning curtain panels for every other room in your home.
Please note: If you are buying from outside of the UK you may have to pay tax on top of our prices, before your parcel can be delivered.