Hemp Curtains and Table Linen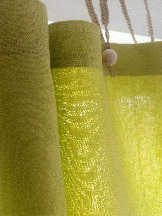 Drapers Organic have designed a contemporary and varied range of hemp home linens, including our unique mix and match hemp homewares such as matching hemp curtains, tablecloths, table runners, beanbag covers and cushion covers. Please click on each image for details.
Our 'Purely' range of hemp 'shower' curtains also make really beautiful regular curtains, some are shown here but please do see our Purely shower curtains for the full range of colours and sizes available.
None of our natural hemp homewares have been treated with any chemicals, including flame retardants. The dyes used are fibre reactive, low impact, azo-free and formaldehyde free and do not contain any animal by products.
Please note : The curtain panels are not lined and so the dyed curtains may fade over time, if in direct sunlight.
Please note: If you are buying from outside of the UK you may have to pay tax on top of our prices, before your parcel can be delivered.