Hemp Fabric & Blanket/Sunshields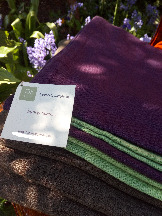 Drapers Organic offer our own, unique range of beautiful hemp and hemp mix fabrics, showing the versatility of this wonderfully attractive, yet sustainable fabric.
Please see our fabulous knitted, hemp blankets; offering soft elegance whilst maintaining a natural feel in your home.
Please note: If you are buying from outside of the UK you may have to pay tax on top of our prices, before your parcel can be delivered.